Welcome to Country - Integrating Indigenous Perspectives
Conference for R-10 teachers convened jointly by HASS SA and KMEIA SA with the support of Educators SA CEASA. 
Resources
Leila Rankine Award for Excellence in SACE Aboriginal Studies
Speech by Iteka Sanderson-Bromley, award winner for year 2018
Click here for the Program so that you can see details of workshops for registration purposes.
Register at Eventbrite - https://www.eventbrite.com.au/e/welcome-to-country-integrating-indigenous-perspectives-conference-tickets-57764034783
LIMITED PLACES – BOOK EARLY $180 full teacher registration; $150 members of KMEIA or associations linked with HASS; $150 TRTs and early career teachers; $70 University teaching students, plus booking fee
The conference will run from 8.30am̶ -5:00pm on Saturday the 30th of March, with a cocktail dinner provided in your registration fee for Friday night the 29th of March (6.00pm̶ 8.30pm). Both days will be held at Hawthorndene Primary School (map).
It promises to be an exciting weekend! Catering for both the cocktail dinner, and meals on Saturday will be Indigenous-inspired, and we will open the event on Friday night with a traditional smoking ceremony provided by Major Moogy Sumner, who will also be presenting the keynote address on Saturday. There will be performances on the Friday from Milan Dhiiyaan and Torres Strait Islander Uncle Eddie Peters, during lunch on Saturday by Yellaka, and to round out the conference by Corey Theatre.
The timetable includes sessions from a variety of educators and Indigenous representatives. Topics include Music; HASS; Drama; STEM; Literacy; Aboriginal Pedagogies; and Indigenous Languages; as well as an introduction to simple, new music, composed in a variety of Aboriginal languages for you to use in your classes right away! There will also be sessions run by representatives of organisations such as Australians Together and the Stronger Smarter Institute, as well as representatives from various Aboriginal and Torres Strait Islander nations such as Kaurna, Ngarrindjeri, Adnyamathanha, Wiradjuri, Narrunga and the Torres Strait. The program is available here. All attendees on the Saturday will receive a goodie-bag with a copy of Songs for Aboriginal Studies and Reconciliation, songbook and CD.
2019 HASS SA Conference
This conference was held on 23/24 February 2019 at UniSA, Magill. We acknowledge the UN International Year of Indigenous Languages.
WELCOME:
Performance by the students of Hawker Area School with Sasha Andersson (KMEIA) and Aunty Pauline McKenzie

BOOK LAUNCH: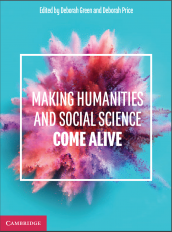 Green, DM & Price, DA (2019). Making Humanities and Social Sciences Come Alive: Early Years and Primary Education, Melbourne: Cambridge University Press. 

Launch by Prof Mohamad Abdulla with the editors and a number of contributors present. Copies will be available for sale at the Conference.
Saturday Sessions
Sessions:
R-12
The epic flight that shrank the world (Lainie Anderson - Epic Flight Centenary Committee)
Edible Native Plants and the Australian Curriculum (Sam Ryan – Adelaide and Mount Lofty Ranges Natural Resources Management Board)
Free ATO education resources support teaching and learning (Reeta Sidhu (Australian Taxation Office)
Sources Analysis: To think or not to think (Jan Farrall – AISSA)
R-7
The Aboriginal Song Book and HASS (Deana Cuconits - Parafield Gardens Primary School)
Indigenous Language songs to inspire (Lucy Pfeifer & Sasha Andersson – KMEIA)
(Katie Silva – Wilderness School)
Yr6-10
Urban Ecology - Christie Walk (Clive West - Tour Guide at Christie Walk Eco Housing Development and former Geography teacher)
Using Community of Inquiry to Teach Argument Structure in a Fun and Engaging Way (Lorelei Siegloff - SA Philosophy in Education Association)
 
Yr6-10 – Our National Institutions
Our National Capital (Garry Watson AM – Project Leader, National Capital Educational Tourism Project)
Primary and Secondary teachers focusing on Civics and Citizenship can take advantage of the passion and expertise of presenters from 8 National institutions - Australian Electoral Commission (Megan McCrone), Australian War Memorial (Carlie Walker), Museum of Australian Democracy (Fiona Bowen & Deb Sulway), National Archives Australia (Tania Zora), National Capital Authority (Amanda Swadling), National Library of Australia (Ben Pratten) and Parliamentary Education Office (Angela Casey)
Yr8-10
VWMA - 'Stories that my grandfather never told me': Interrogating the Anzac Legend to look for the hidden stories of real people. (Malcolm - Department for Education & Virtual War Memorial Australia (VWMA))
How Revealing - how to use HP Reveal in classrooms and on excursions (Kathryn Knight – OLSH)
Excursions:
Inspiring a new generation: Sir Ross Smith's epic flight of 1919 (Lainie Anderson, Epic Flight Centenary Ambassador) at Adelaide Airport
Sustainability in the wine industry – Primezone and Wine Australia partner for a study tour of the McLaren Vale and Willunga wine region.
So That's How You Can Live More Sustainably (Clive West) at Christie Walk
A Philosophy Trail through the Art Gallery; for HaSS Classes! (Lorelei Seigloff – SAPEA) at the Art Gallery
Let's uncover Migration Stories/Participation in Democracy (Madelena Bendo & Patrick Bugeja) at the Migration Museum & the Centre of Democracy
More reasons to attend the 2019 HASS SA Conference:
Cost: $130 for Teachers, $100 for Early Career Teachers (< 3 years), $40 for Pre-Service Teachers. A registration processing fee will apply.

Please share with your colleagues...we're looking forward to seeing you at the Conference.
Held 24-25 February 2018
HASS SA Uni student award winner unit planner

Foundation Year - Geography 'mapping my world' by Fiona Porter

Links and resources from presenters

Aboriginal history activity (Adele Pring and Christine Reid) Role play of Aboriginal history in SA since 1800 revised Feb 2018 
Anzac and more (Malcolm McInerney) https://rslvirtualwarmemorial.org.au/   http://anzaccentenary.sa.gov.au/competitions/the-premiers-anzac-spirit-school-prize
Are you scared of teaching singing (Kirsty Karapas and Deana Cuconits) See green box at http://hass-sa.asn.au/resources/songbook-and-cd/ 
HISTORY TRUST SITES THAT WELCOME STUDENT VISITS
Centre of Democracy email schools@centreofdemocracy.sa.gov.au centreofdemocracy.com.au
Migration Museum email: mbendo@history.sa.gov.au  www.migrationmuseum.com.au
National Motor Museum email  ireed@history.sa.gov.au  http://motor.history.sa.gov.au/learn/
Maritime Museum email maritime@history.sa.gov.au     www.maritime.history.sa.gov.au
Making Ethical Understandings Fun and Meaningful in the HaSS Classroom (Lorelei Siegloff) sapea.weebly.com
Model United Nations (David Albano) Model UN: How to Participate - UNA-USA
Philosothon sapea.weebly.com
Primarily Hungry and Naked (Kelly Spence) www.primezone.edu.au
Sources analysis (email Janet Farrall) Sources analysis - development progression grid for Years 7-10
Sustainability (Cally Malone) www.naturalresources.sa.gov.au/adelaidemtloftyranges/education/for-educators/education-for-sustainability
The CRAP test: because the Internet isn't always right (Katie Silva) https://padlet.com/ksilva/hass2018internet
Voting in the classroom (Megan McCrone)  http://education.aec.gov.au/
World's Largest Lesson (Elspeth Grant) http://worldslargestlesson.globalgoals.org/
OTHER RELEVANT LINKS
ABC Science Catchment Detox Game
http://www.abc.net.au/science/catchmentdetox/files/home.htm
FrogWatchSA
http://www.frogwatchsa.com.au/about/about-frogwatch-sa
FrogWatchSA SA is a collaboration of state, local government and non-government organisations. It supports individuals, schools and local groups to gather more information than was possible with previous programs and technologies.
KESAB Litter Less
http://www.kesab.asn.au/programs/litter-less/
KESAB Papermaking
http://www.kesab.asn.au/schools/classroom-sessions/papermaking/
KESAB Wipe Out Waste
http://www.kesab.asn.au/programs/wow/
National Capital Educational Tourism Project
http://www.canberraexcursions.org.au/
NRM Education Teaching Resources
http://www.naturalresources.sa.gov.au/adelaidemtloftyranges/education/for-educators
NRM Education is a program of the Adelaide and Mount Lofty Ranges Natural Resource Management Board supporting preschool and school communities in Education for Sustainability.
Natural Resources SAMDB School Programs and Resources
http://www.naturalresources.sa.gov.au/samurraydarlingbasin/education/school-programs
Tourism - Free online resources for secondary schools
http://guides.library.uq.edu.au/cyberschool-students/schools/tourism
You can review the program to prompt ideas for teaching and access some of the presentations and resources below.
. 
Conference workshop support materials
Keynote address 'The place of HASS in Curriculum, time to argue our case!' by Malcolm McInerney
see also http://humsteach.blogspot.com.au/2017/02/hass-sa-conference.html​
A1 The ethics of hunting Pokemon and other creatures of the imagination

A2 Sustainable backyards with Sophie Thomson, Hamlyn Cottage

A3 Illumination and Unrevelment - beaming brightness onto the 2017 UN Theme 'Sustainable Tourism for Development' within the context of HASS PowerPoint and Workshop file
A5 Creating Rubrics that actually work - go to https://padlet.com/acotterell/rubrics then click hyperlinks to
A6 Virtual War Memorial 1.6Mb ppt and see also https://rslvirtualwarmemorial.org.au
A9 Games in History: Free, Fun and Functional  
A10 Virtual War Memorial 1.5Mb ppt
A11 Papermaking www.thetravellingpapermaker.com
A12 Weaving Ngarrindjeri History
B1 Overview of Aboriginal and Torres Strait Histories and Cultures in the Australian Curriculum
B1 Aboriginal history and cultures in the Australian Curriculum 1.8Mb ppt
B1 Aboriginal perspectives in Australian Curriculum 1Mb pdf

B1a Transforming tasks ' from tell to ask', see DECD Leaders Resource
B2 Social Sustainability and Litter Less
B3 Visiting you, visiting me: what would people see?

B6 Thinking in HASS, all of HASS!
B7 Frogwatch
B8 Voting in the Classroom and see also http://education.aec.gov.au/teacher-resources 
B9 How schools can be involved in working with refugee communities
B10Respectful classrooms using the Community of Inquiry Approach presentation
B10 Respectful classrooms classroom model for teachers

C3 Adelaide International Bird Sanctuary
C4 Using technology to interpret local heritage https://www.nationaltrust.org.au/sa https://www.makersempire.com/

C6 Let's be civil: Civics and Citizenship in the HASS curriculum - a practical look
C8 Stolen generations 1.5Mb pdf
C9 Hungry and Naked www.primezone.edu.au
C10 Designing Fair and Accessible Assessment Tasks ppt (1.1Mb)
C10 Checklist for designing assessment tasks
see also History tasks at http://www.htasa.org.au  Choose the workshops tab. On the right hand side are Assessment Exemplars. You can change them to fit your content material.
E1 Sophie Thomson, Hamlyn Cottage
E2 Warriparinga Bushtucker, History and Music Workshop and Aboriginal Art Workshop
E3 Adelaide International Bird Sanctuary
http://www.naturalresources.sa.gov.au/adelaidemtloftyranges/educate/for-educators/plants-and-animals/coastal-marine-environments
http://www.naturalresources.sa.gov.au/adelaidemtloftyranges/plants-and-animals/adelaide-bird-sanctuary
Australian Curriculum: History, Geography, Economics and Business, Civics and Citizenship
General Capabilities and Cross Curriculum Priorities
UN Year of Pulses and UN Year of Camelids 
The conference was held on Saturday 27 February 2016 at Magill Campus (Amy Wheaton Building), University of SA, St Bernards Road, Magill, with activities at various locations on Sunday 28 February 2016
Below, please find resources provided by a range of presenters with codes, eg A3 indicating which session they relate to. You can view the conference program to identify sessions.
A1 Years R-2 History and the General Capabilities 2.5Mb ppt
A2 Quality assessment design in HASS 500kb ppt
A3 What are pulses 22Mb ppt very useful adaptable information and pedagogy for R-10 about pulses, including nutrition and Australian exports to the Middle East, India and surrounding countries in particular.
A4 Reading camels with Rosanne Hawke 4Mb pdf Images of camels, cameleers and community in contexts in Afghanistan, Australian History, teaching ideas and links to Australian Curriculum

A5, C6 Civics & Citizenship Concepts and Resources 5Mb ppt very useful overview

A5 Voting in the classroom 2.2Mb ppt
B3 Education for Sustainability 6Mb ppt lots of useful ideas - notes are accessible that add additional info.
B6 Civics and Citizenship and Geography 3.3Mb pdf
B8 Citizenship Walk for Water 4.8Mb pdf

B9 Food security in the 21st Century - using 21st Century fluencies 2.2Mb pdf
2016 UN Year of Camelids
2015 HASS SA Conference for Humanities and Social Science teachers R-12, including pre-service
Australian Curriculum: History, Geography, Economics and Business, Civics and Citizenship
General Capabilities and Cross Curriculum Priorities
UN Year of Soil

The conference was held on Saturday 28 February 2015.
Download the 2015 Conference Program to adapt ideas for teaching and find out contact details for presenters. Scroll down to access support materials provided by presenters.
Below are 'One Step at a Time' keynote speakers, author Jane Jolly (left) and Sally Heinrich (on elephant)
2015 Conference Support Materials
A2 Years R-7
What are our stories and how do they connect to the stories of others?
Claire Wood, Primary Australian Curriculum Implementation Officer Claire.Wood@sa.gov.au and Thomas Harvey, Deputy Principal at Hampstead Primary School developed an integrated HASS unit. See their powerpoint link below.
What are our stories and how do they compare to the stories of others? (pdf ppt 5.2Mb)
A7 Years R-12
Standing on the shoulders of giants
Katie Silva, teacher-librarian, Wilderness School and HASS SA President. So… you're familiar with the curriculum you'll teach, you've thought through your pedagogy, context, planning and resources. So you can survive and thrive, we'll identify some giants (networks, associations, resources and mentors) and make some connections. Not all giants are friendly, so we'll set some heffalump traps too.
hass.sa.online@gmail.com
Katie's PowerPoint presentation (3.8Mb ppt)
Katie's Bibliography (95kb word doc)
A9 Years 8-10
Global citizens for the 21st century?

Dr Andrew Peterson and Deborah Green, UniSA
Global citizens for the 21st century (Ppt 711kb)

B2 Years R-12
Using ICT to integrate HASS and English
Paul Huebl - English has always been a natural integration subject with the humanities. This workshop will showcase some ways in which ICT can facilitate this in innovative and engaging ways. Using examples from the Australian Curriculum, participants will be exposed to some proven examples of how technology can enhance learning in both disciplines. Both 1:1 and shared device environments will be catered for.
Participants should join the Edmodo group at https://edmo.do/j/aivwqv 
Paul's slideshare http://www.slideshare.net/paulhuebl/2015-hass-sa-conference-45208881
C5Years 4-12
History on Film
Ash Starkey has provided the following links:
The First Anzac Day
www.thefirstanzacday.com

The trailer on YouTube
https://www.youtube.com/watch?v=oKFsWnvQSPY&list=UUvqmYUbjoiVyL6xpcY_bhNg
Consider visits to various places of worship in the Adelaide metropolitan area. The download has details for places visited by teachers at our conference in 2015. Previous visits have included the Hindu Temple at Marion and the Mosque off Torrens Road, Woodville North, organised through the Muslim Women's Assoc. of SA.
NRM (Natural Resources Management) Education
NRM works with (pre)schools that are signed up to the AuSSI-SA program, so if you like to work with NRM Ed on your journey toward sustainability, you can sign up (it only takes 3 minutes) at:

http://www.decd.sa.gov.au/efs/pages/default/29879/

A resource to help choose the right composting method for you, that would be great to take along to a staff meeting or use as an inquiry with students can be found on the 'Waste' page of the NRM Education website, along with videos of children explaining how to set up your worm farm and some great case studies:

http://www.naturalresources.sa.gov.au/adelaidemtloftyranges/education/for-educators/waste

From the NRM loan library, you can hire out excellent books on composting, or anything else you are interested in for that matter; gardens, birds, climate change, water conservation and more, see:

http://www.naturalresources.sa.gov.au/adelaidemtloftyranges/get-involved/education/for-educators/loan-library

Wipe Out Waste has a huge number of resources on waste management, nude food / litterless lunch programs, a free DIY waste audit and lots more at:

http://www.wow.sa.gov.au/resources.html
2014 ARCHIVE
2014 International Year of Family Farming
The International Year of Family Farming 2014 is an initiative promoted by the World Rural Forum and supported by over 360 civil society and farmers' organizations. This worldwide celebration, declared by the United Nations General Assembly, aims to become a tool to stimulate active policies for sustainable development of agricultural systems based farmer families, communal units, indigenous groups, cooperatives and fishing families.
All this work is being made from the perspective of effectively combating poverty and hunger and the search for a rural development based on the respect for environment and biodiversity.
http://www.familyfarmingcampaign.net
2014 United Nations International Year of Small Island Developing States
The International Year of Small Island Developing States aims to raise recognition of environmental problems that small island states are facing.
According to the UN Herald, the Pacific region is endangered by environmental influences and that is why Pacific island states need support and assistance. Countries like Australia, France and United States aim to promote the prevention of forced migration on the basis of environmental impact. Events and activities that promote the year are dedicated to work towards securing small island states and preventing forced emigration from them.
2013 ARCHIVE
UN Year of Water and/or Quinoa presentations from 2013 conference available for download
Keynote presentations
Freshwater Cooperation - Jennifer McKay (4.2Mb ppt)
Quinoa - Sprout Cooking (3.2Mb ppt)
Workshop presentations
Analysis of History Sources - Janet Farrall (7.3Mb ppt)
Analysis of History Sources handout - Janet Farrall
Words about Water - Katie Silva (312Kb ppt)
Words about Water - Bibliography
SASOSE award winning university students' units of work
GPS Tracking v Right to Privacy - Karina Darling
Multiculturalism in Australia - Kirsty Karapas
Refugees and Asylum Seekers - Tennyson Jaensch (6.1Mb Word)